Video Walkthrough
---
What is a Dashboard?
A dashboard is a visual representation of multiple sets of data. In the world of Preset and Superset, a dashboard is a collection of charts. Dashboards have the unique capability to tell a story by combining different types of charts to form a narrative.
When used correctly, a dashboard can empower teams to present powerful data-based presentations as well as enable organizations to monitor information based on dynamic data.
---
How to Create & Populate a Dashboard
To start the process, let's go ahead and create a new dashboard.
Create a New Dashboard
Just like creating a chart, let's use the New button to create a dashboard. So, in the Toolbar, select New and then select Dashboard in the drop-down menu.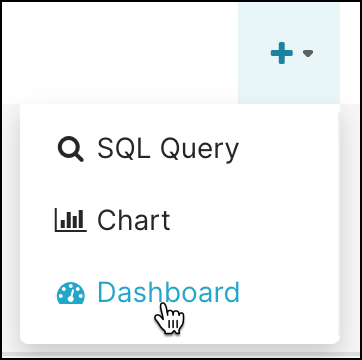 Like naming a chart, in this case we will name our new dashboard. Select the [ untitled dashboard ] text:

...delete the placeholder text, enter your dashboard name, and then hit ENTER. Since we're working with Netflix data, we'll call our new dashboard "Netflix Insights."
Lastly, select SAVE.

Add a Chart to the Dashboard
Okay, now that your dashboard is all set, let's browse back to the chart you configured in the Configure and Run Query topic, entitled "Netflix Programs by Category and Rating."
You can do this by selecting Charts in the Toolbar:

...and select the "Netflix Programs by Category and Rating" from the list to load in Explore view.

To add the chart to the dashboard you just created, select Save.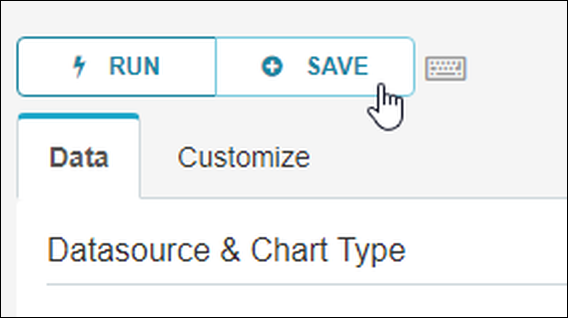 In the Add to Dashboard field, select the dashboard you created earlier — Netflix Insights. Lastly, select Save & Go To Dashboard.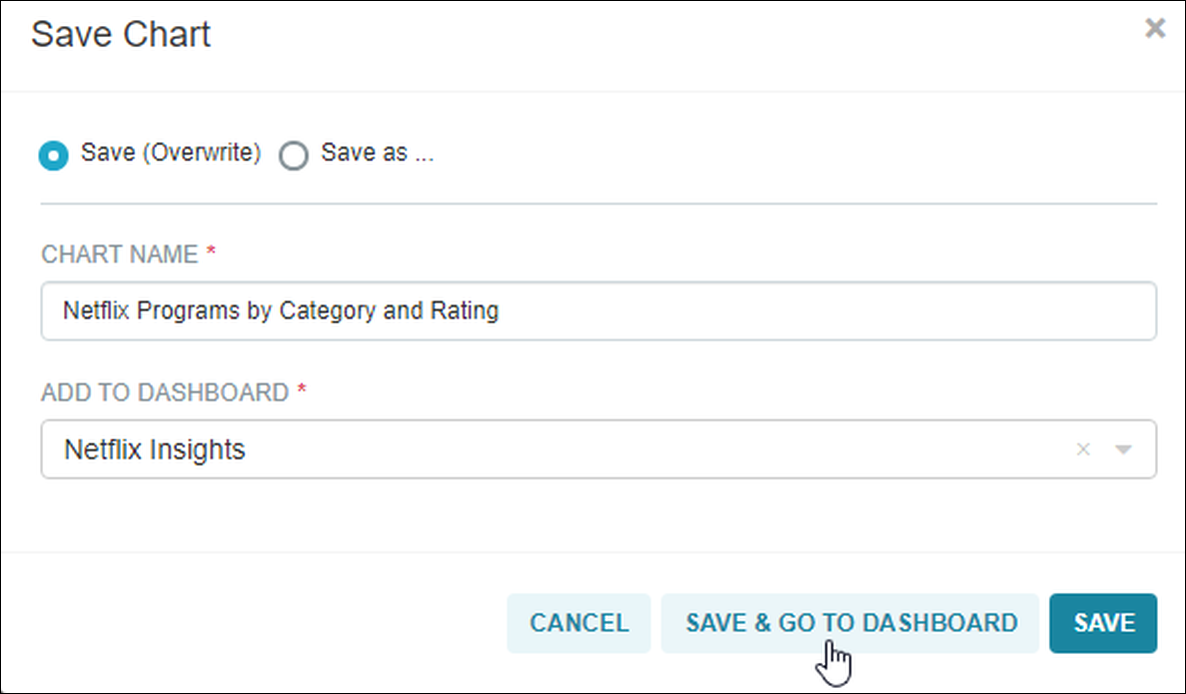 Congratulations! Your chart has been added to your dashboard. As you create other Netflix-related charts, you can add them to your Netflix Insights dashboard.
At this stage, if you haven't already, you may want to try making some additional charts to populate your dashboard. Have a look at Other Chart Examples to get some ideas!
How to Add a Chart from a Dashboard
Alternatively, you can also add an existing chart from the dashboard environment. Here's how to do it:
In the top Toolbar, select Dashboards to navigate to the dashboards environment.

Select your Netflix Insights dashboard.

In your dashboard, select the Edit (pencil) icon.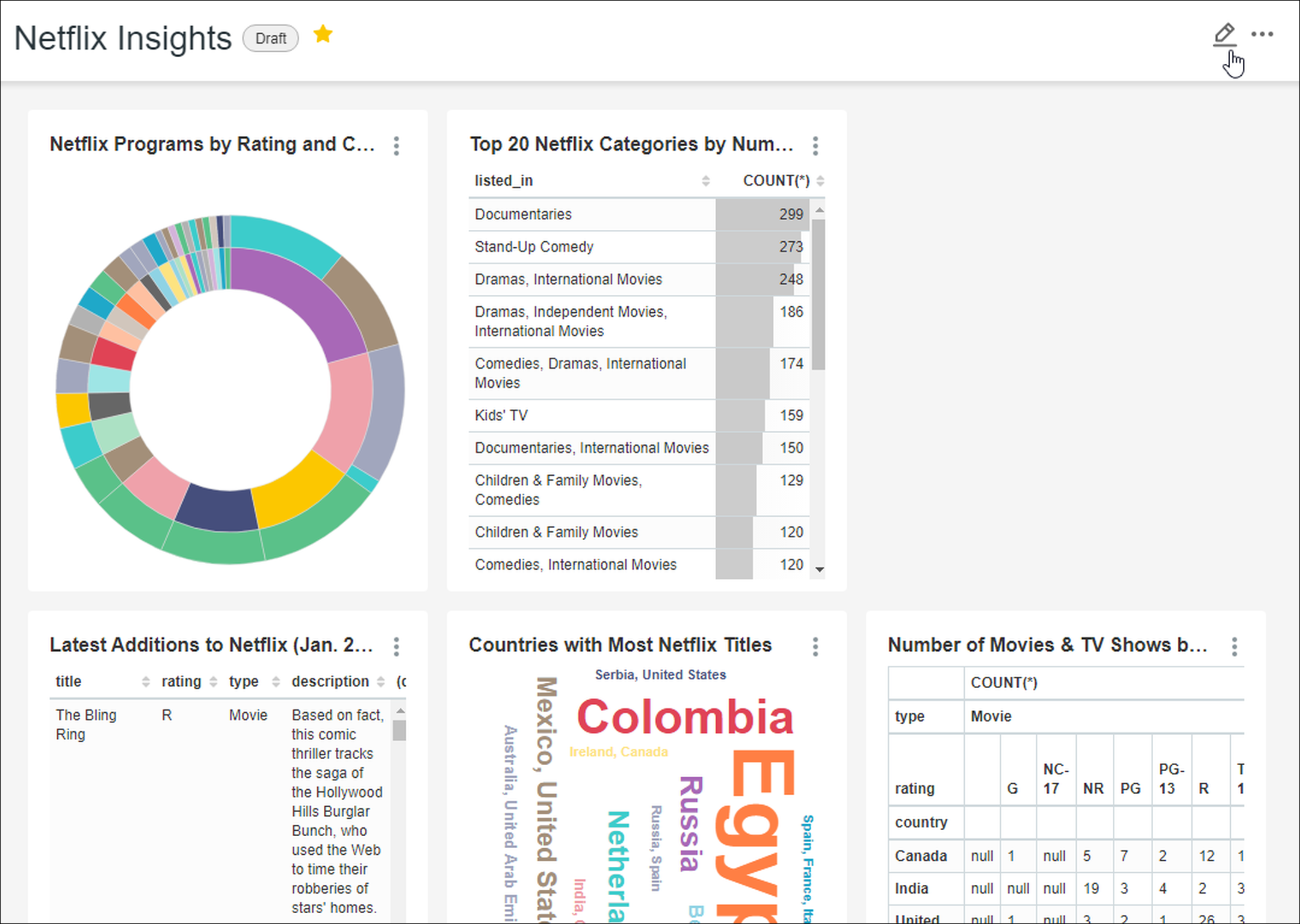 On the right side panel, you will notice a pair of tabs: Components (default) and Charts. The Components tab is used to manage the look & feel of your dashboard, which is something we discuss in the Customizing a Dashboard article.
For now, select the Charts tab.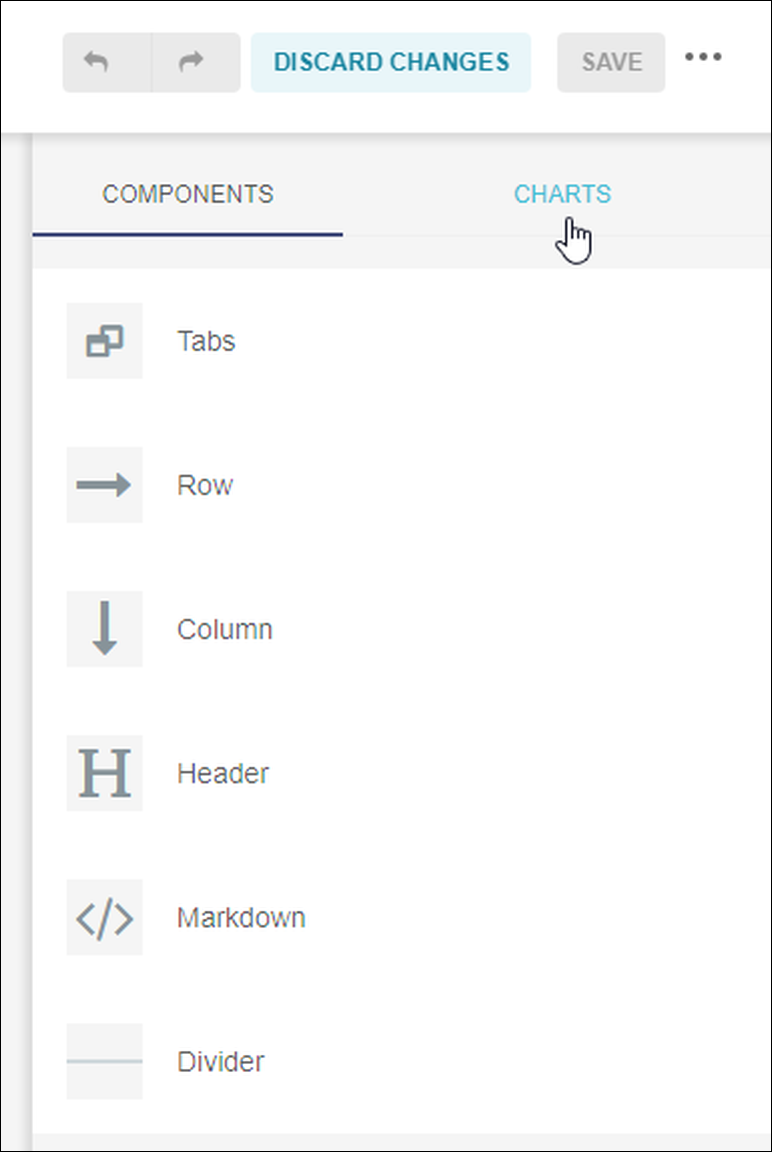 After you do so, you'll notice a list of all the charts you have ceated. Here's a look at the Charts tab: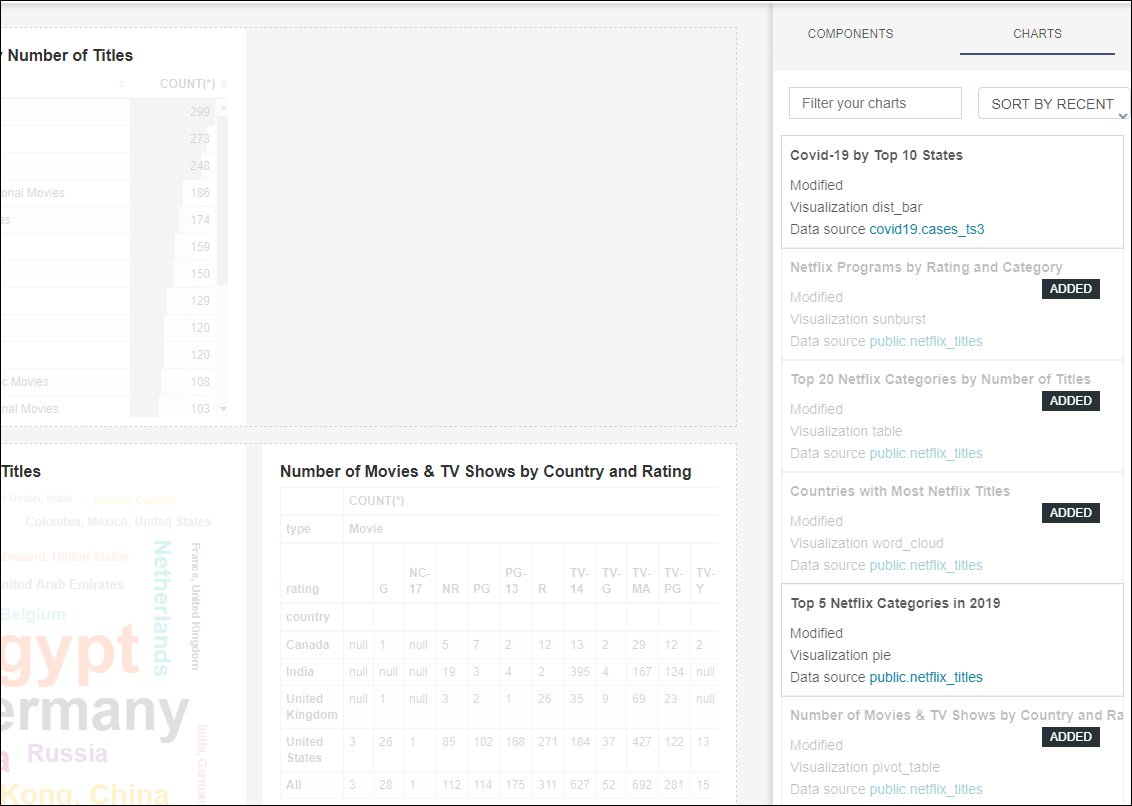 To add an existing chart to your dashboard, simply drag & drop your chart from the Charts tab into an available space on your dashboard.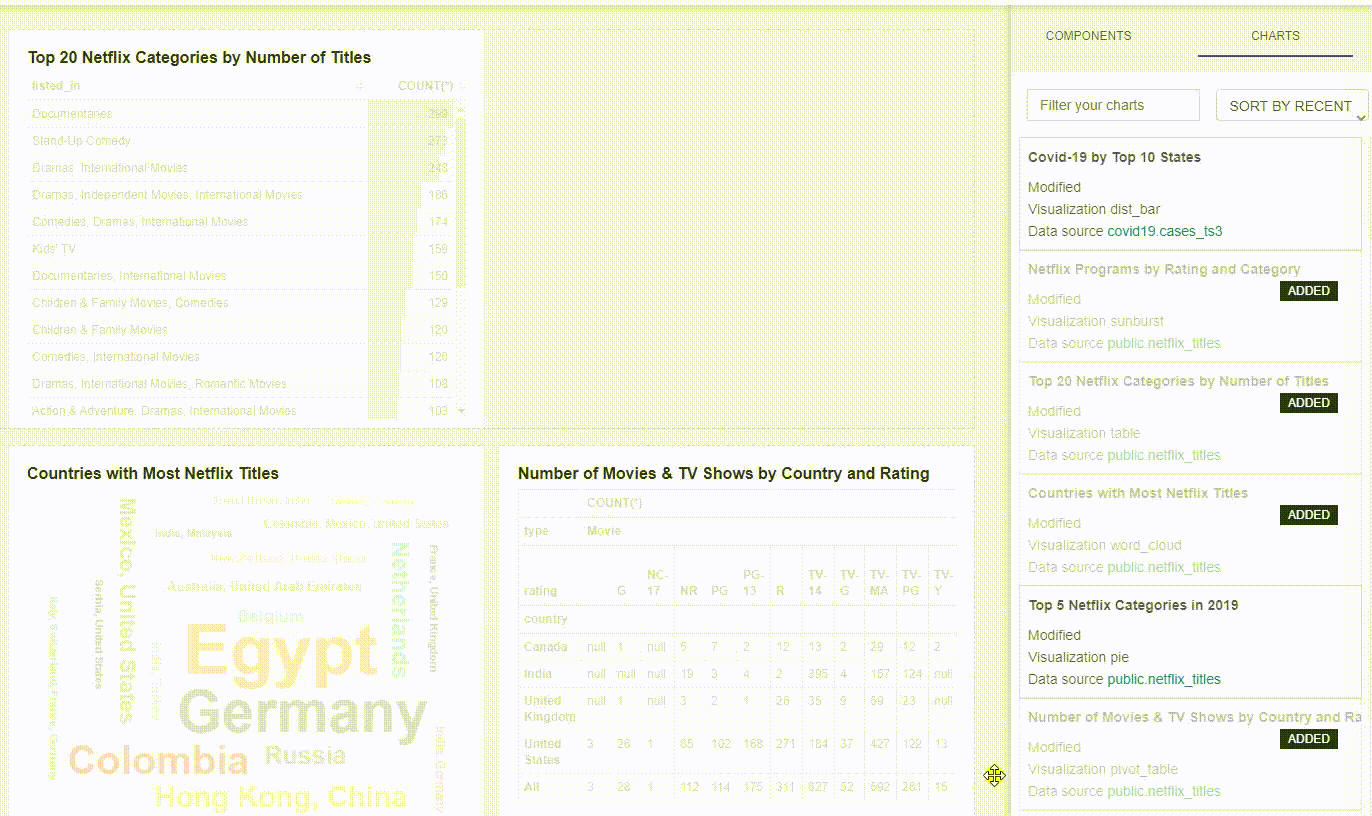 It's as easy as that! Just remember to save your dashboard if you are happy with how it looks.
To learn how to save your dashboard—along with other useful topics—check out our next article, Using Dashboards. See you there!
Was This Article Helpful?
---