Overview
The SQL Lab is the workspace for users to manage all aspects of SQL usage in their Preset environment.
Key features include:
Connects to just about any database backend;
A multi-tab environment to work on multiple queries at a time;
A smooth flow to visualize your query results using Superset's rich visualization capabilities;
Browse database metadata: tables, columns, indexes, and partitions;
Support for long-running queries;

Uses the Celery distributed queue to dispatch query handling to workers; and,
Supports defining a "results backend" to persist query results.

A search engine to find queries executed in the past; and,
Supports templating using the Jinja templating language which allows for using macros in your SQL code.
---
Components
The SQL Lab is comprised of the following three tools:
SQL Editor: An iinteractive and intelligent SQL IDE with schema navigation and autocomplete features;
Saved Queries: Searchable list of saved queries from the SQL Editor screen; and,
Query Search: Searchable list of queries executed in SQL Editor (saved or not saved).
---
Navigating to SQL Lab Components
From the top toolbar, simply select SQL Lab and then choose a tool from the drop-down menu.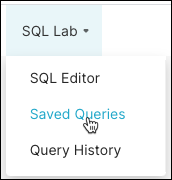 Was This Article Helpful?
---