Sharing a Dashboard
Preset supports the easy sharing of dashboards by either copying a unique link to a dashboard or sharing a link via e-mail.
Let's have a closer look at both methods.
Step 1: View a Dashboard
To start, select and view a dashboard. Please have a look at How to Find Charts and Dashboards if you need help viewing a dashboard.
Step 2: Share the Dashboard
From the dashboard view, in the Toolbar, select the Edit dashboard drop-down arrow.
In the drop-down menu, select Share dashboard. It looks like this:

After you select this option, the Share Dashboard box appears. This box shows the URL (i.e., web address) of the dashboard.
Copy the Dashboard's URL
Select the copy icon to copy the URL to your system's memory. At any time, you can paste the URL in a desired location.

...or Mail the URL to a Colleague
By selecting the envelope icon, you can launch your default e-mail app and send the dashboard URL to a colleague.
Here's what it looks like on a Windows system when a default e-mail app is not defined: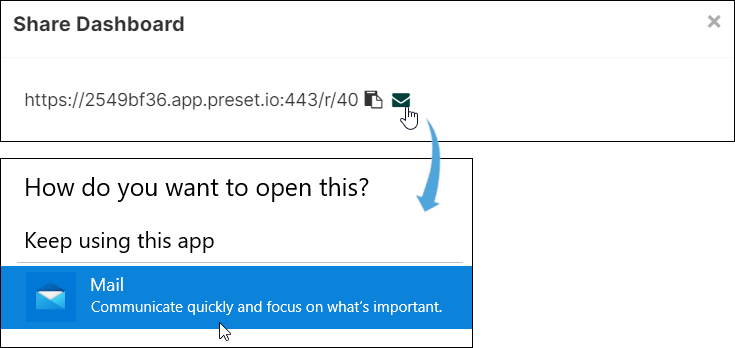 ...your experience may differ based on your operating system.
E-Mail Format
The e-mail is pre-populated with this information:
Subject: Superset Dashboard Name
Body: Check out this dashboard: URL
Where Name is the name of the dashboard and URL is its website address.
---
Sharing a Chart
In addition to sharing a dashboard, you can also share specific charts:
...from within a dashboard; or,
...from within the Chart Creation screen.
From within a dashboard
Simply browse to a chart within a dashboard, select the vertical ellipsis (3 vertical dots), and then select Share chart.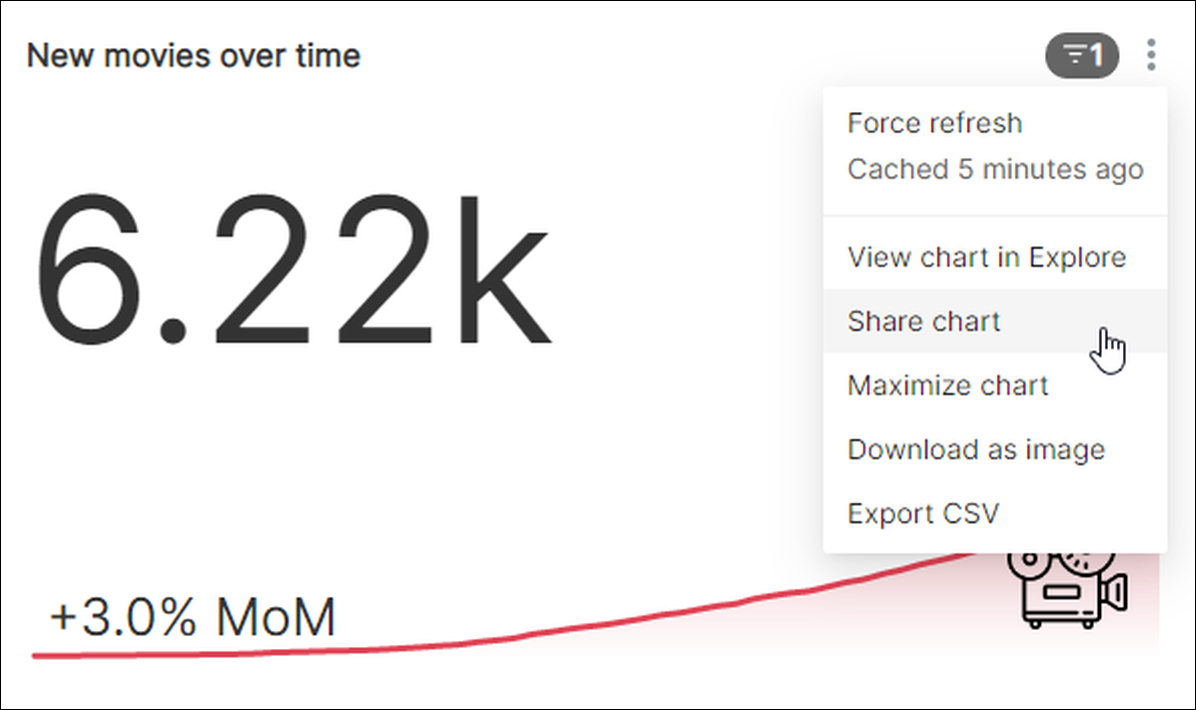 The actual sharing of the chart is identical to the dashboard sharing process described above... just copy the link or e-mail the URL and you're all set!
From within the Chart Creation screen
While creating a chart, you can also copy the chart's URL or e-mail it to a colleague.
Above the chart, just select the link icon and follow the same processes as described above.

Was This Article Helpful?
---