Overview
In this detailed walkthrough, we will familiarize ourselves with how the Explore page works and demonstrate the process of configuring a chart and running a query.
If you haven't already selected a chart type, be sure to do so. In this example, we will create a pie chart that uses publicly-accessible data about Netflix programs.
Our chart will be called Top 5 Netflix Categories. So, let's get started!
---
Step 1: Review the Dataset Panel
Explore Page Appears
After selecting a chart type, the Explore Page appears: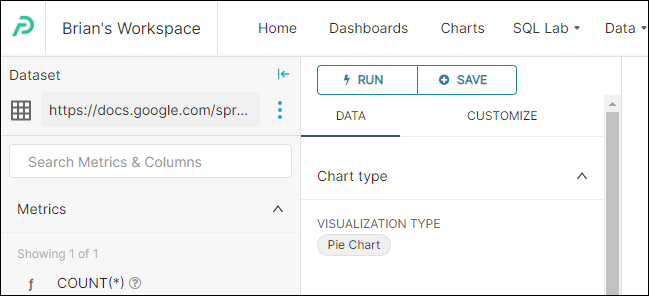 This environment is used to configure your visualization (i.e., define a query) and then run the query. To learn more, see Explore Interface Terminology.
View the Dataset Panel
Let's start in the top left in the Dataset panel. This section displays your active dataset.
Selecting the vertical ellipsis icon reveals the following options:
Edit dataset: Provides access to the semantic layer, where you can modify metrics, columns, and calculated columns.
Change dataset: Select to change your active dataset.
View in SQL Lab: Opens up the selected database in SQL Editor.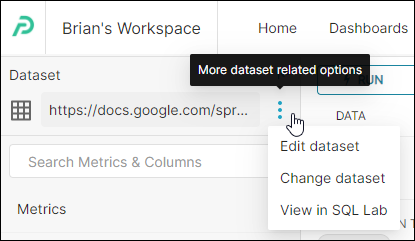 Feel free to experiment and use any of these options, as needed.
---
Step 2: Review the Metrics & Columns Panel
Directly below the Dataset panel is the Metrics and Columns panel.
As the name implies, this section lists all of the metrics & columns found within your active dataset. If you are working with a large dataset, then the Search Metrics & Columns field enables you to quickly find the data you need.
Each data type includes a small icon that conveys its type:
ƒ: Function used for metrics
Clock: The datasource's time column (used below)
ABC: Text data
#: Numeric value data
This panel looks as follows: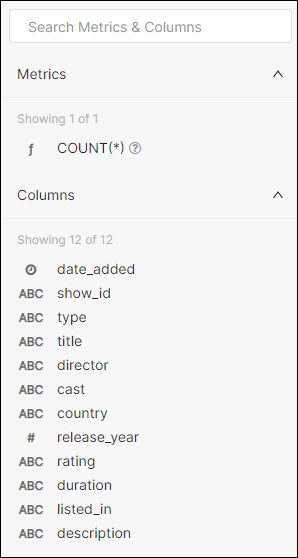 We advise Preset users to familiarize themselves with their data so that they can anticipate which visualization is the best choice for them. We encourage you to view Chart Walkthroughs to learn more about chart types.
Later on, we will drag & drop metrics and columns into the Query panel to configure our visualization.
---
Step 3: Review the Chart Type Panel
The Chart Type panel is used to change your visualization type. It can be used at any time, so feel free to change charts to see different ways to display your data!
To change chart type, select current visualization type: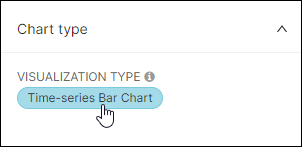 The Select a visualization type panel appears featuring the Chart Gallery interface.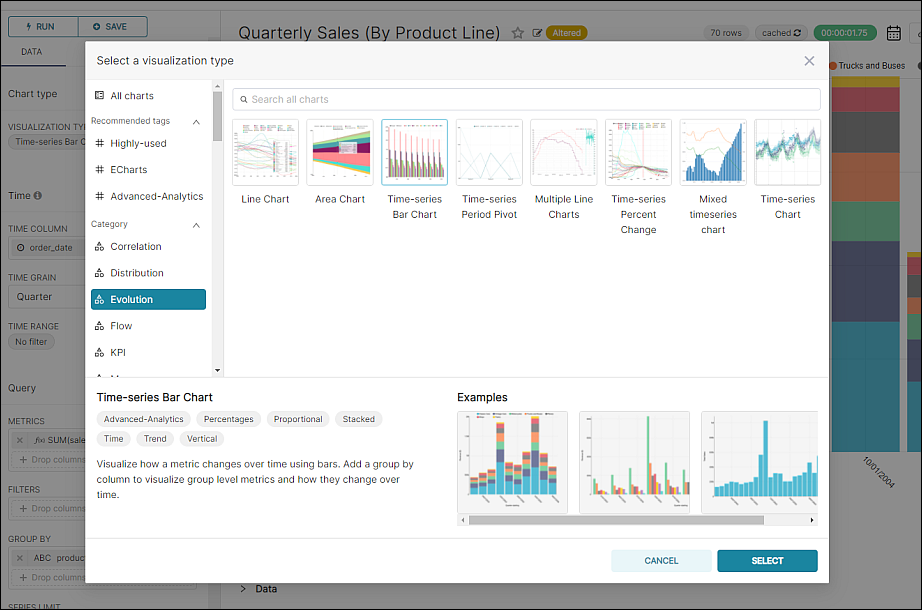 From this panel, you can filter charts based on recommended tags and categories, as well as search for keywords. To learn more about how to use the Chart Gallery to select a different chart type, please see Creating a Chart.
---
Step 4: Configure the Fields
The Time panel is used to select the dataset's time-related data element (Time Column field) and define a time range (Time Range field), which is used to specify date ranges from which data will be extracted from the datasource.
Generally-speaking, if you are working with a small dataset, then you may not want to specify any time range ("No filter") so that you can access all data. Conversely, if you are working with a large dataset, then a time range filter may be extremely useful based on your chart goals.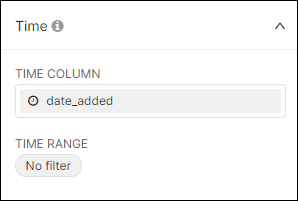 Time Column Field
Time columns are indicated in the Metrics & Columns panel by a small clock icon. Most datasets contain only one time-related column, which is automatically selected by Preset, such as the date_added time column in the graphic above.
If Preset hasn't automatically filled this field with a datetime column, you can drag and drop a column to ensure the Preset Explore runs your query.
In the event that your dataset has an additional time column, you can select it by dragging & dropping the column from the Metrics & Columns panel to the Time Column field.
Time Range Field
To change the time range, select the current time range button ("No filter" in the graphic above). The Edit time range panel appears.
There are a number of different range types offered in Preset — take a look at Time Configurations for a more detailed walkthrough.
Add a Metric or Column
You can then start dragging a metric or colum to the applicable destination fields. These fields will be highlighted in blue. Preset uses intelligent color indicators to convey where metrics and/or columns can be placed.
When the metric or column is dropped, the field's associated pop-out window will automatically appear so that details can be entered.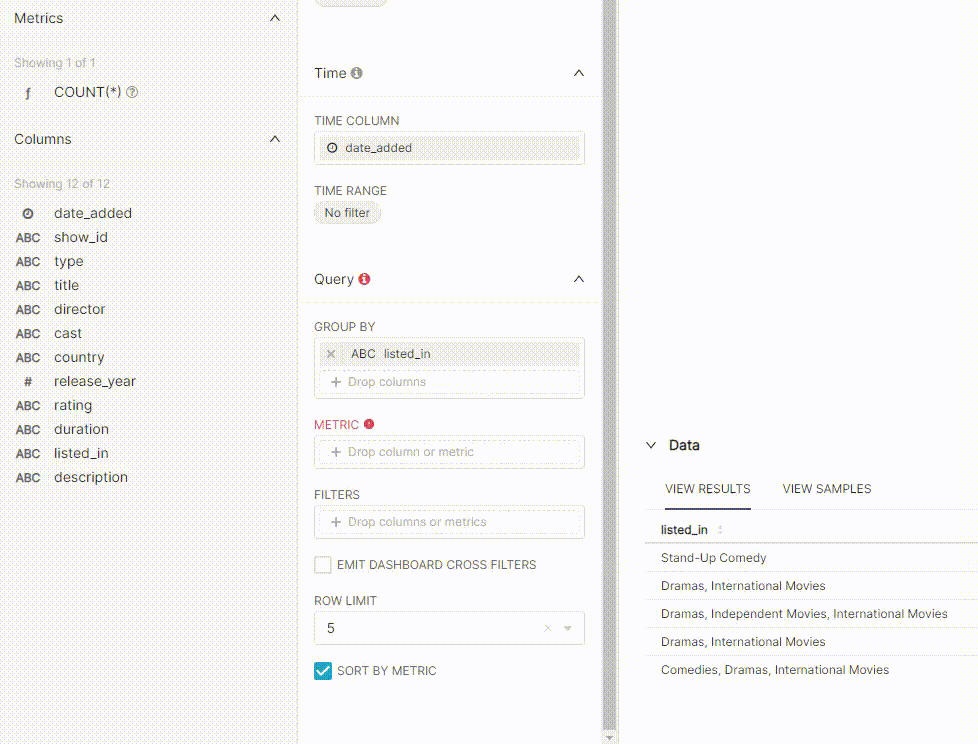 Intelligent Color Indicators
For example, looking at the blue highlight in the animation above, the COUNT metric can be used in the Metric or Filters fields, but not the Group By field (as those fields are for columns).
Conversely, a red highlight conveys that a metric or column cannot be placed in a field destination.
Possible reasons why a red highlight would appear include:
Adding a metric or column to an inapplicable field.
Adding the same metric or column to a field where it is already placed.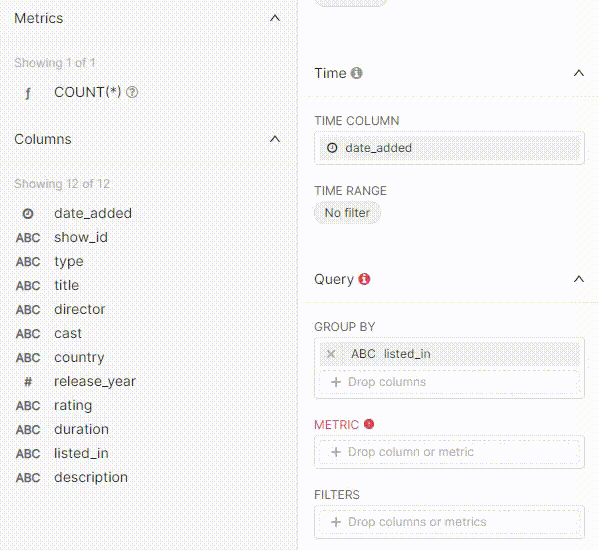 Remove a Metric or Column
To remove a placed metric or column, simply select the x in the relevant field.
In this graphic below, we are removing the rating column:
Reordering Values
You can also use drag & drop to reorder values, effectively changing the hierarchy and achieving different chart views. In the Treemap example below, we are swiching data groupings by reordering the gender and state columns.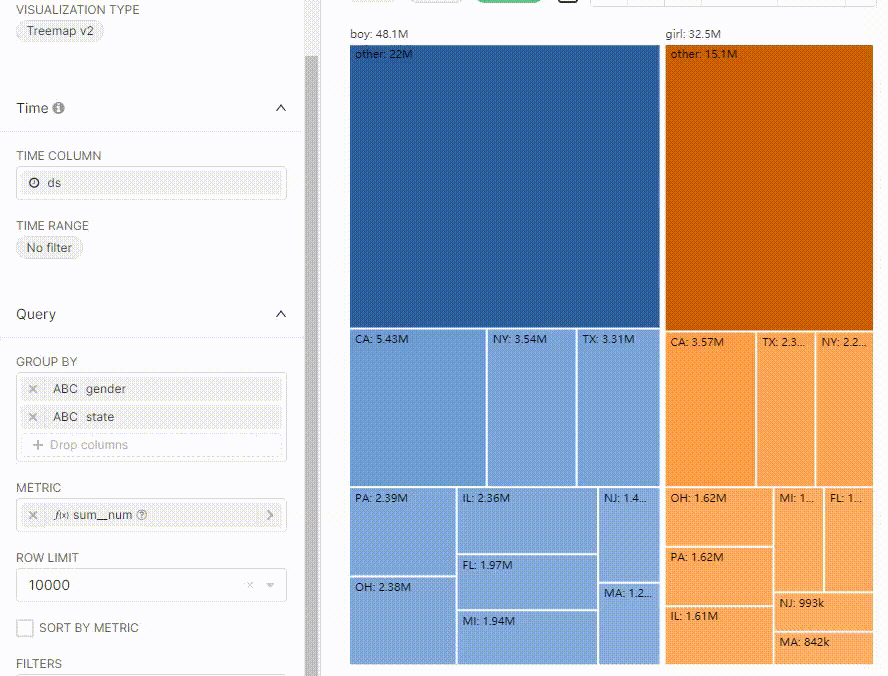 Support for Metric & Column Selection
In addition to the new drag & drop functionality, we will continue to support the previous method of selecting metrics and columns from a drop-down list.
:::
---
Step 5: Run the Query
Data Panel
Below the chart there is an expandable section called Data. If you select Data, this section expands and displays the following:
View Results Tab
The View Results tab, displayed by default, displays the results of the query. In this instance, it displays the top 5 category names and the number of titles within each category.

View Samples Tab
The View Samples tab displays actual raw data, with the amount of data displayed based on the value specified in the Row Limit field.

Viewing the Chart
After running the query, we can see a pie chart with 5 categories in the Content panel. Nearly every Preset chart is interactive and pie charts are no different — feel free to hover your cursor over a slice of the pie to see additional details.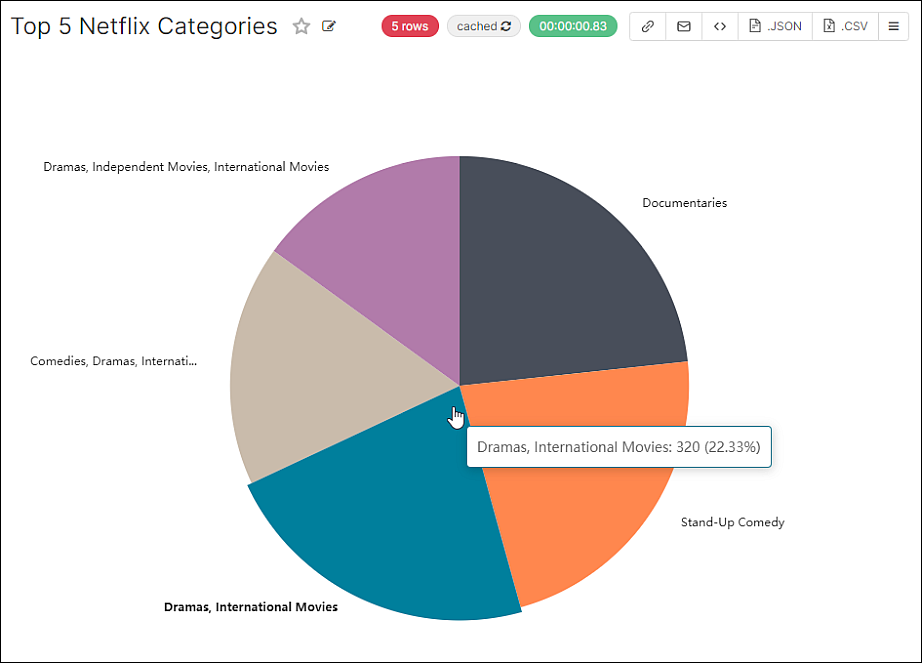 Chart Tools
In the top right of the Content panel, there is a horizontal toolbar containing the following chart tools:

Copy chart URL to clipboard: Copies the URL address of the chart to your clipboard.
Share chart via e-mail: Launches your system's default e-mail client with the chart URL included in the body of a message.
Embed code: Provides an <iframe> embed code.
Export to JSON format: Download the chart to a local or network location in JSON format.
Export to CSV format: Download the chart to a local or network location in CSV format.
Triple Bar / Burger icon: Provides additional options, which are:

Edit properties: Enables you to change the properties of the chart, such as the name, description, and owners.
View query: Launches the View query panel and displays the chart's query in SQL.
Run in SQL Lab: Launches the SQL Editor and loads the chart's query in SQL.
Download as image: Download the chart to a local or network location in JPEG format.
---
Step 6: Customize your Chart
Preset charts offer varying degrees of customization. In Preset, pie charts can be significantly customized in terms of color, display of labels, display of a legend, number and date formatting, and the shape of the pie chart. You can even turn a pie chart into a donut shape, if desired.
To customize, just select the Customize tab to see what options are available to you.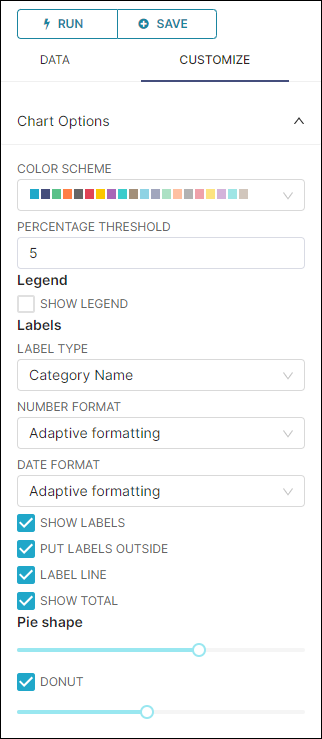 ---
Step 7: Experiment
Try experimenting with different chart types and configuration settings to see how your data can be expressed in multiple ways.
As an example—for an entirely different look—try changing the chart type to a top 10 Bar Chart: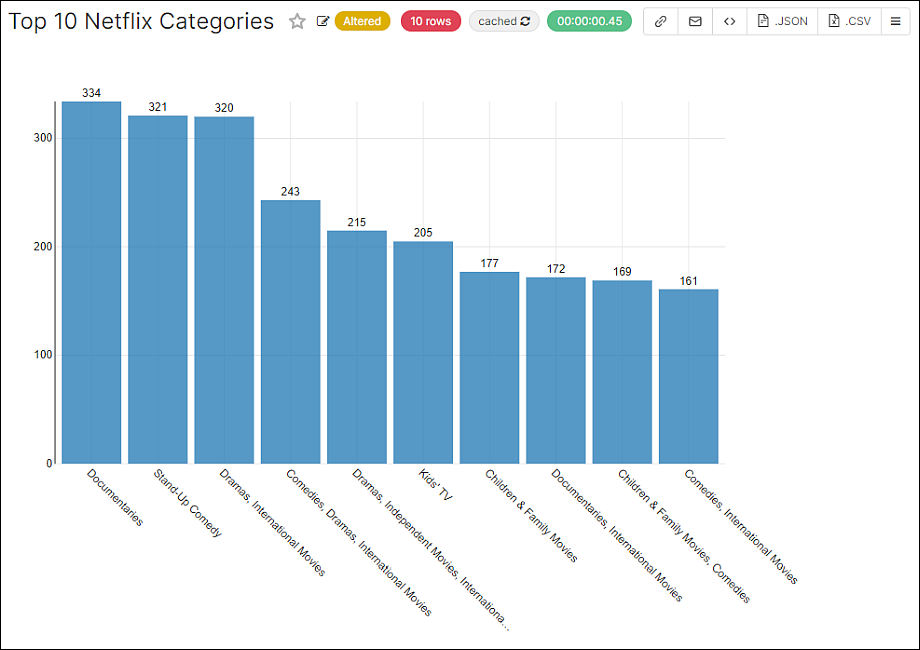 Some tips:
Remember that the type of data you're working with usually works best with certain chart types. Netflix data, for example, may be best visualized using data composition charts, such as word clouds, pie charts, and bar charts.
Expand or contract your time range to access more or less data, respectively.
Likewise, change series limit fields to increase or decrease the amount of data displayed in the chart.
Try using different columns in different combinations to see what works best for the story you are trying to tell in your chart.
---
Step 8: Save the Chart
As a final step, let's save our new chart. Above the Data and Customize tabs, select Save.

Select the Save as... option and then select Save. You'll notice that the Chart Name field is already populated with the title — you can change this if you like.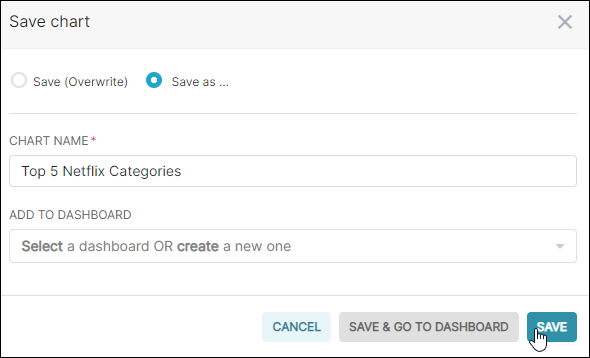 ---
Ready for the Next Step?
If you'd like to see some other examples of different chart types, please see Chart Examples. If you're ready to learn about Dashboards, then let's dive in to Creating a Dashboard.
---
Was this article helpful?
---
What's Next