Tree Map
03 Mar 2023

1 Minute to read
Tree Map
Updated on 03 Mar 2023

1 Minute to read
---
A tree map uses scaled rectangles to visualize the same metric across multiple different groups. You can add further stratify your tree map and add hierarchy using a dimensional column. Here are some examples:

Reference Content
The following articles may be useful resources as you build your chart:
Creating a Basic Treemap
Preset currently has a few options for treemaps in the visualization picker:
We strongly recommend using the Treemap v2 visualization type, as it's newer and supports more features.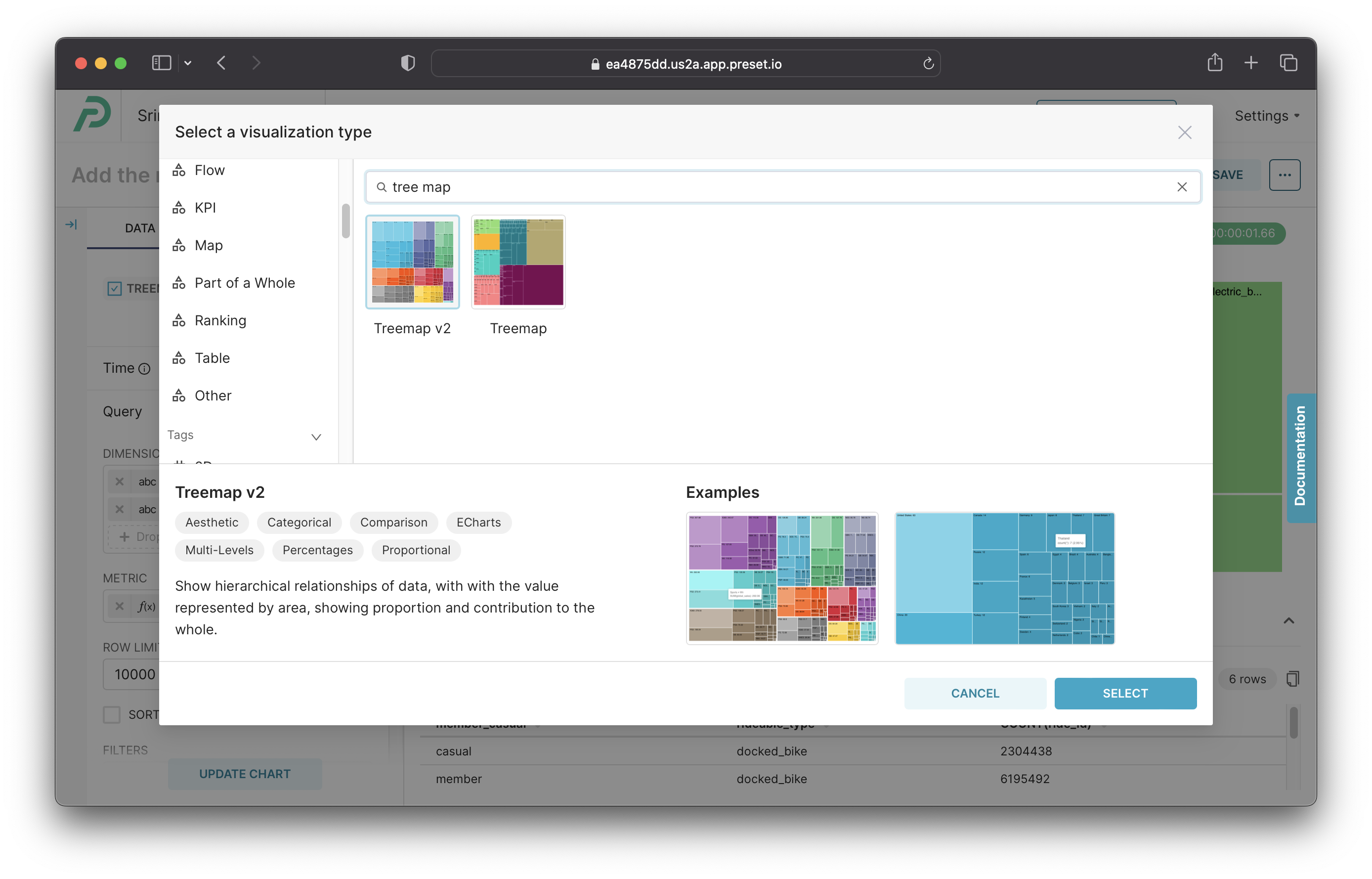 To create a Treemap, you need to define:
the Metrics you want visualized as rectangles
the Dimension(s) you want to use for partitioning
Below is a simple Treemap: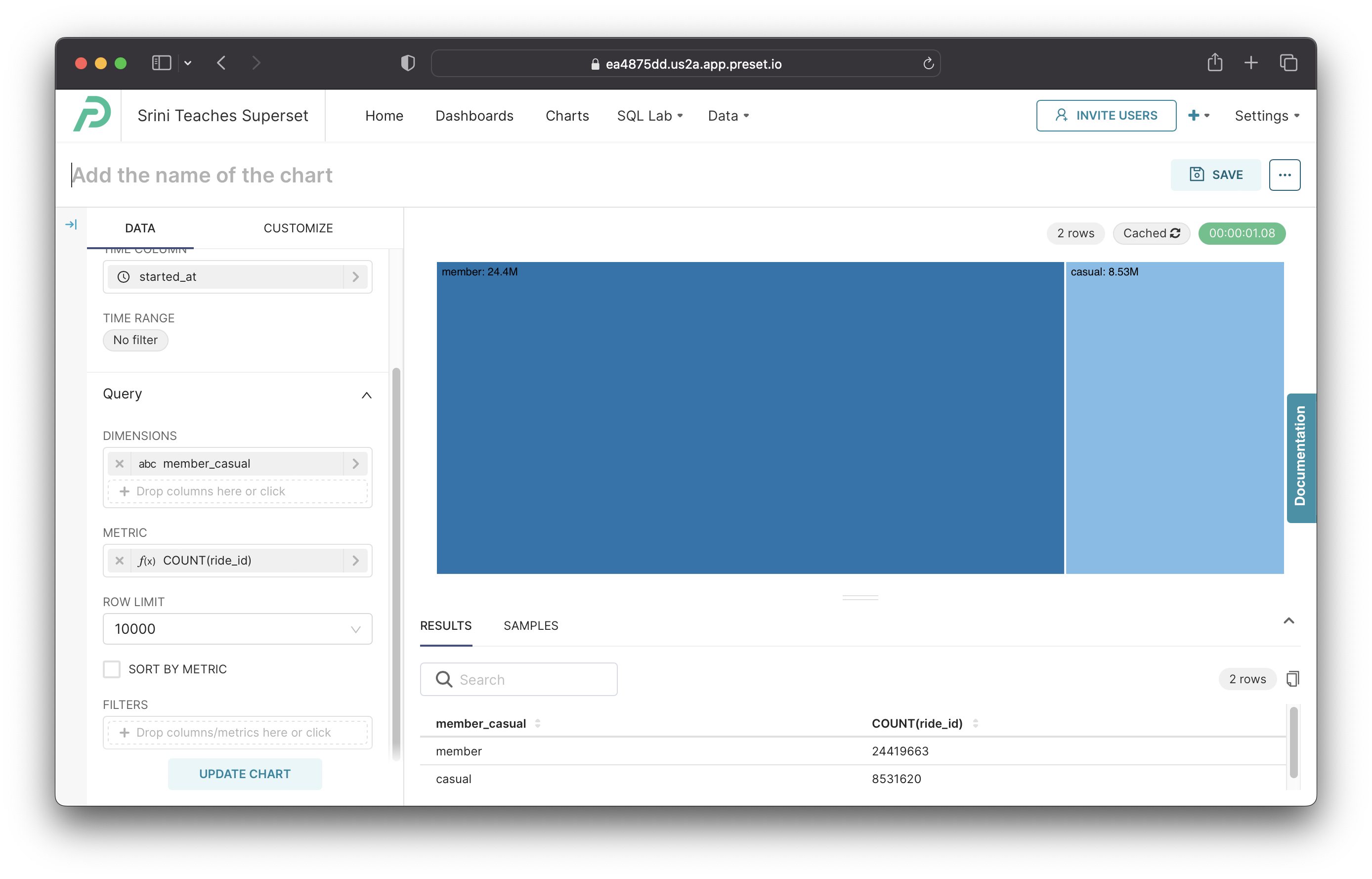 Here's an explanation of the selections we made in the chart builder interface to generate this chart.
Chart Builder options

Like many charts in Preset, start by selecting the Metrics and Dimensions you want to visualize. Unlike the other charts in Preset, choosing a Dimension column is crucial to creating a useful tree map.
Dimensions: choose the column you want to be used for partitioning the rows and for powering the GROUP BY in the generated SQL.
Metric: choose the metric that's visualized as rectangles in the tree map.

Generated Query
Creating a Hierarchical Treemap
You can add layers of hierarchy into your treemap by choosing multiple dimensional columns.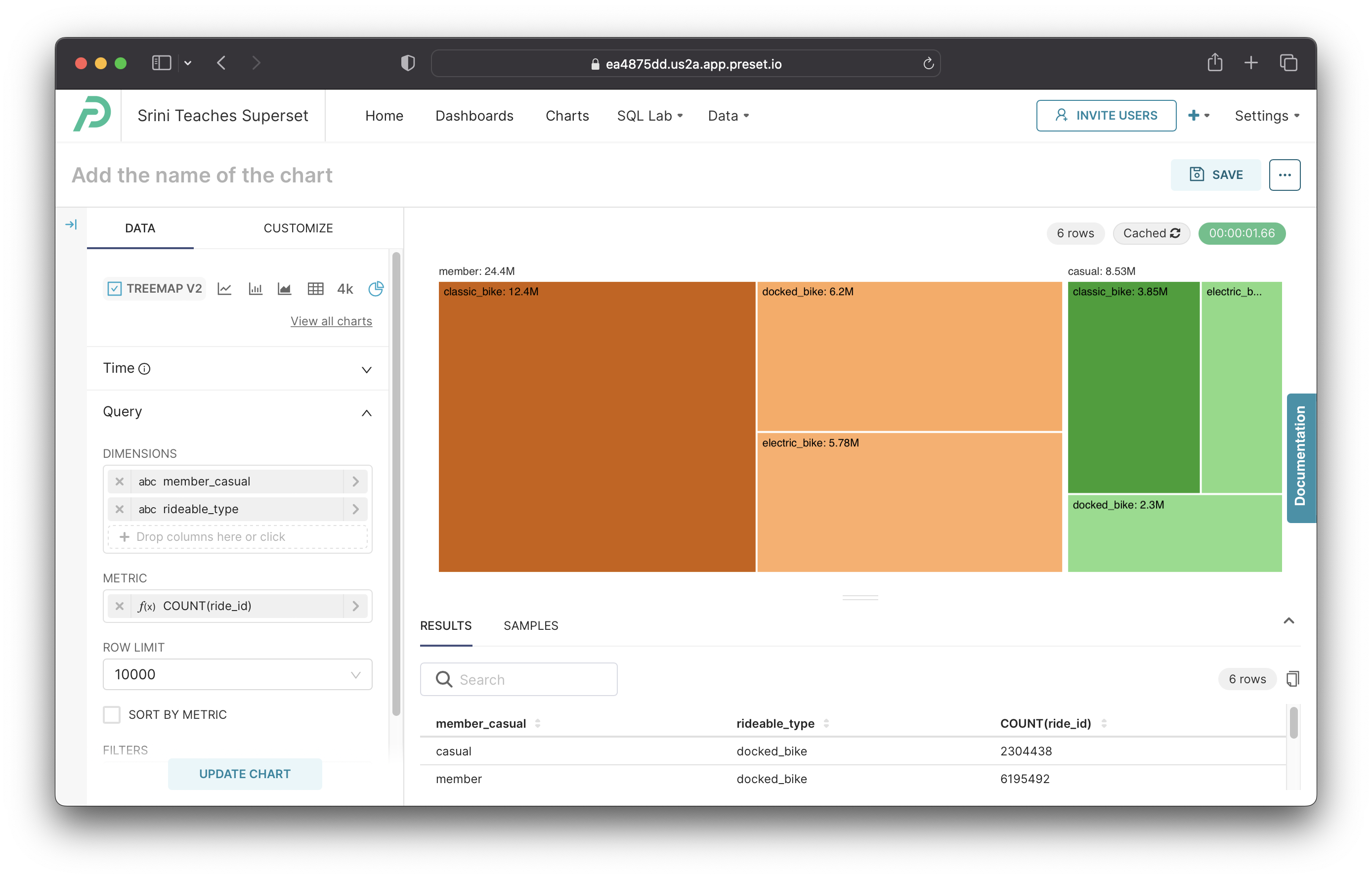 Here's a breakdown of the selections we made in Chart Builder to generate the chart above.
Chart Builder options

This time, we will use two dimensional columns instead of one. A pairwise GROUP BY will be computed.

Generated Query



Customizing your Treemap
Under the Customize tab, you can find a number of options for customizing your tree chart further. Here are some of the options:
Color Scheme: choose the color palette you want used in your chart
Labels

Show Labels: checkbox that shows the metric values as labels if ticked
Show Upper Labels: checkbox that shows labels of parent squares in a hierarchical treemap
Number Format: how you want the numbers formatted for display
Date Format: how you want the date values formatted for display
---
Was this article helpful?
---
What's Next