Overview
In this article we will discuss how to connect a Snowflake database to Preset. So let's get started!
---
Allowlist Preset IPs
Before starting, we recommend that you allowlist the Preset IP addresses to ensure the connection with Snowflake.
In Snowflake, allowlist Preset IPs by running:
CREATE NETWORK POLICY PRESET_WHITELIST
ALLOWED_IP_LIST = ('x.x.x.x', 'x.x.x.x', 'x.x.x.x')

...with x.x.x.x being the relevant IP address based on the region where Preset Cloud is deployed:
| us-west-2 | us-east-1 | eu-north-1 | ap-northeast-1 |
| --- | --- | --- | --- |
| 35.161.45.11 | 44.193.153.196 | 13.48.95.3 | 35.74.159.67 |
| 54.244.23.85 | 52.70.123.52 | 13.51.212.165 | 35.75.171.157 |
| 52.32.136.34 | 54.83.88.93 | 16.170.49.24 | 52.193.196.211 |
---
Connect Database to Preset
Let's start by selecting + Database — have a look at Select a Database if you need help wth this step.
...then, in the Connect a database window, select the Snowflake card.
Configure the Connection
The Connect a database panel appears.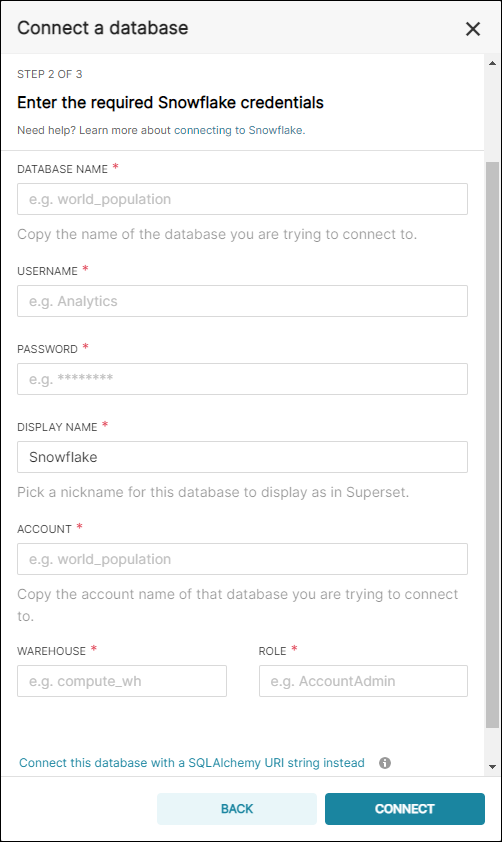 Please note that all fields below are required.
In the Database Name field, enter the name of the database that you are connecting to.
In the Username and Password fields, enter your user credentials.
In the Display Name field, enter a nickname for the database for display in Preset; by default, this is "Snowflake."
In the Account field, enter the account name of the database that you are connecting to. Ensure that it includes the correct region and cloud provider (e.g., xy12345.us-east-2.aws or xy12345.europe-west4.gcp or xy12345.canada-central.azure).
In the Warehouse and Role fields, enter the relevant warehouse (e.g., compute_wh) and role (e.g., accountadmin) for the connection.
When done, select Connect.
Note: Entering Account Details
Please note that when entering account details, it is not necessary to append "snowflakecomputing.com" to the account.
For example:
Correct: xy12345.canada-central.azure
Incorrect: xy12345.canada-central.azure.snowflakecomputing.com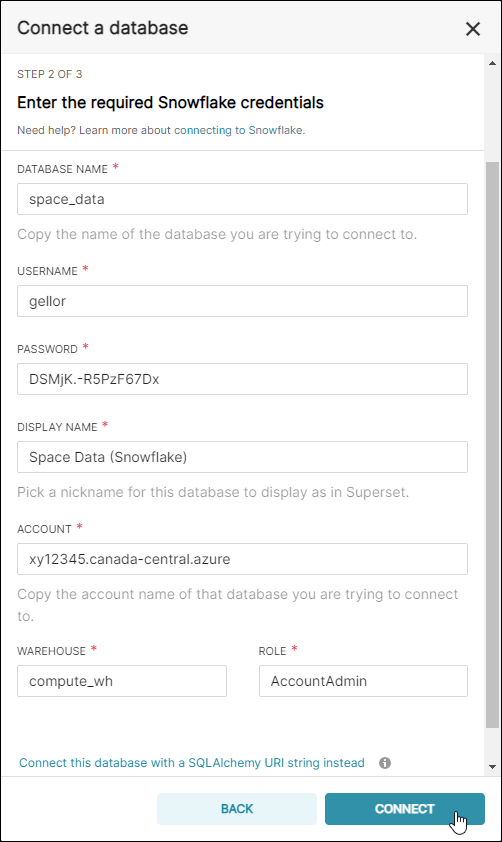 Step 3 of 3 will appear. At this stage, you can optionally configure Advanced options, if needed. To learn more, please see Optional Settings.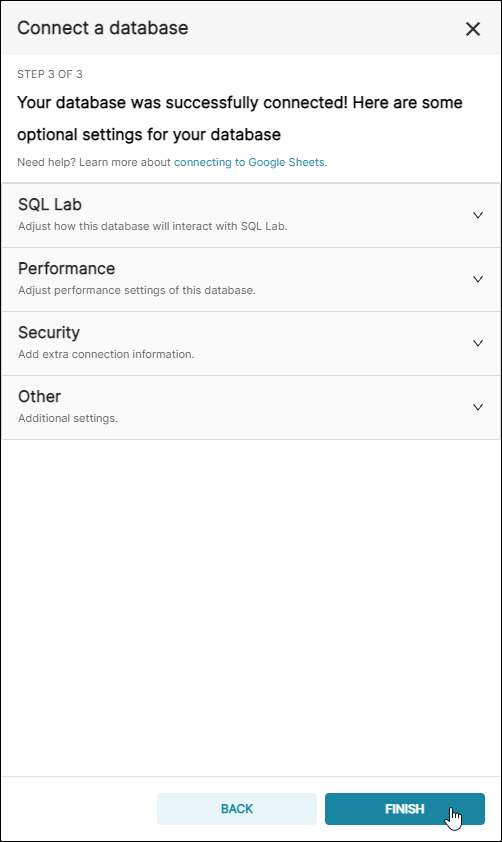 To finalize the connection, select Finish. Great job!
---
Was this article helpful?
---
What's Next