Toolbar
As a new Preset user, your journey will begin by logging on to the system and then proceeding to the selection of a workspace.
After doing this, the Preset screens share consistent navigation elements that empower users to quickly familiarize themselves with creating and managing visualizations, dashboards, etc.
The first thing you'll notice is the toolbar located across the top of all pages:

Let's have a closer look at each menu option.
---
Home

The Home option navigates to the Home Page, where you can view recent activity, browse through dashboard and chart visualizations, and see your latest saved queries.
---
Dashboards

The Dashboards option displays a list of all dashboards available in your workspace. On this screen, you can view who last modified the dashboard, its current status (i.e., draft or published), when it was last modified, the creator, and the owner(s). In addition, available actions include editing the dashboard's properties, deleting the dashboard, and downloading a dashboard as a ZIP file.
---
Charts

The Charts option is used to view a list of all charts created in Preset along with critical information, such as type, datasource, creator, and a last modified time-stamp. Charts can also be edited and deleted from this screen.
---
SQL Lab

Options in the SQL Lab menu enable you to launch Preset's SQL Editor, which can be used to visually create SQL queries. You can also manage saved queries as well as run powerful searches/filters to discover all existing Preset queries.
SQL Editor: Launches Preset's robust SQL integrated development environment (IDE) that empowers you to manage all aspects of SQL query creation. Rich visualization approach supports the easy browsing & selection of query data. Multiple tabs support the management of multiple queries at the same time.
Saved Queries: Enables you to search for saved queries made by all users within your shared workspace. Query details can be viewed, edited, and deleted. In addition, saved queries can be loaded directly into the SQL Editor with one click.
Query History: View and search for all created queries within Preset using a number of different search features, such as keyword search, user and database filters, state, and time range.
---
Data

Options in the Data menu enable you to manage your databases and datasets, including edit and delete capabilities. This menu also supports the creation of new tables from uploaded CSV files.
Databases: Displays a list of databases that have been created or accessed via Preset. From this list, you can drill down to view, edit, or delete the database record.
Tables: Displays a list of all datasets currently used in Preset and enables you to edit ot delete them as needed.
Upload a CSV: Enables you to create a table from a CSV file, associate it with a database, and define parameters as needed.
---
New (+ icon)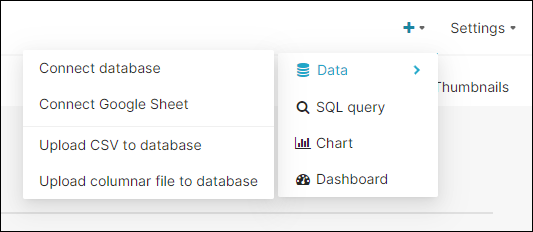 This is probably the most-used toolbar icon on Preset! Options in the + drop-down menu are used to create a new SQL query, chart, or dashboard.
In addition, by expanding the Data option, you are able to select one of the following choices:
Connect database
Connect Google Sheet
Upload CSV to database
Upload columnar file to database
---
Settings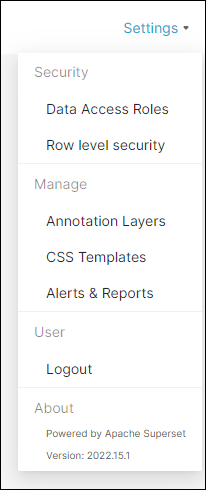 Options in the Settings menu include the following features:
Security Section

Manage Section

Annotation Layers: This option is used to manage categories of content that can be included in visualizations. Each category—or layer—can contain one or more annotations.
CSS Templates: Contains CSS template records that enable users to define and store code segments written using cascading style sheets (CSS).
Alerts & Reports: This feature is used to create an alert that sends a chart or dashboard via email to recipient(s) when a SQL-based trigger event occurs. Similarly, reports provide the same functionality, but run on a defined schedule.

User Section

Logout: Logs you out of the Preset platform.

About Section

Displays the current version number of Preset that you are using.
---
Was this article helpful?
---
What's Next