Invite Others to your Team
---
Overview
The administration of users in Preset is done at the team level, with users belonging to a team which has access to one or more workspace instances of Superset.
In order to access the functionality described in this article, a user needs Admin access. If a user is a non-admin, then they will be unable to access the Team page.
Let's get started by looking at Preset's team management features.
---
Managing a Team
Let's start by navigating to the Team page — to the right of a team name, select Manage Team.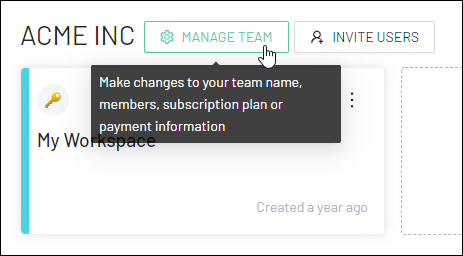 Invite a Teammate
The Team Settings screen appears. In this interface, you can edit your team name by selecting the pencil icon.
Start by selecting Members & invites.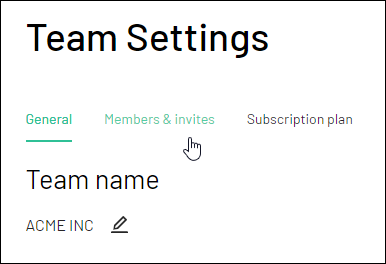 To invite a teammate, in the Invite team members panel, enter an e-mail address and then select Send Invite.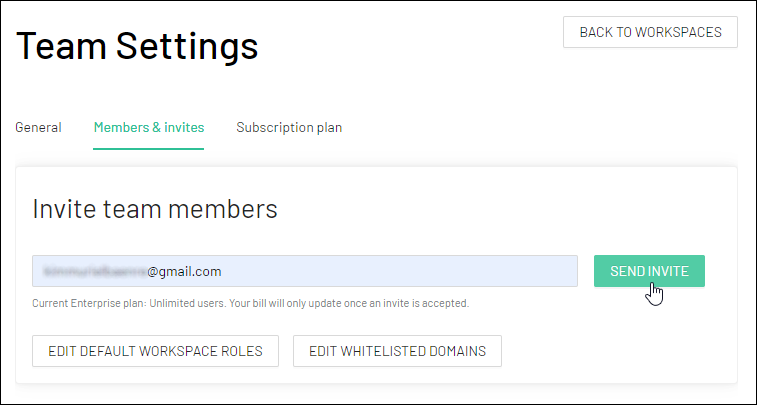 An invitation e-mail with an acceptance link will be sent to the recipient. To see what this message looks like, see First Steps.
After an invitation has been sent, it is classified as a pending invitation and will appear in the Pending Invites panel.
Re-send an Invitation
In the event that your recipient did not receive the invitation, you can always navigate to the Pending Invites panel and re-send the invite by selecting Re-send Link.

Alternatively, you can always copy the invite link directly to your clipboard by selecting the copy icon under the Invite Link column header.

Delete a Pending Invitation
If you wish to rescind a pending invitation, you can always select the trash bin icon to delete any pending invite.

Change a User Permission
When a new teammate accepts an invitation and creates an account with Preset, their name and e-mail address will be listed in the Members section.

The drop-down list under the Permission column header enables you to change the user permission to either User or Admin, as needed. Note that, by default, all new users are assigned the permission of User.
But, first, what's the difference?
Admin: An Admin permission enables a user to access/use all functionality within Preset, including team management and the connection of a database.
User: A User permission also has access to all Preset functionality, but cannot connect a database and also has no access to team management features — a user can only view fellow teammates.
To change the user permission, simply select an appropriate option from the drop-down menu. All changes are saved automatically.

Remove a Team Member
To remove a member from a team, navigate to the member's entry row and then select the trash bin icon.

A confirmation message appears — select Yes to confirm.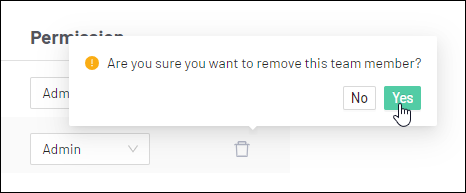 ---
Was this article helpful?
---
What's Next