Overview
We want your experience with Preset to be smooth and positive from day one! We realize, though, that a bit of assistance at the right time can help you ramp-up and be more productive without wasting energy.
To help with this, we have put together a list of resources designed to give you the answers you need, when you need them.
---
Knowledge Base
What you're looking at right now—the Preset documentation—is likely one of the best initial resources to consult. This knowledge base provides a wide variety of practical instructions and video walkthroughs for both Preset and Superset. Even if you don't have a specific question, this is a great place to start on your learning journey with Preset! And we encourage you to continue to check it out as we are continuously updating and adding new documentation.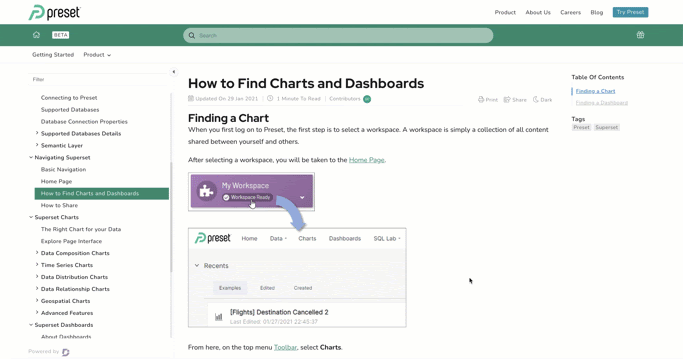 ---
Open a Support Ticket
Professional and Enterprise users can also directly open a Support ticket by visiting the Preset Support Portal at https://preset.io/support/.
If you are looking for assistance related to billing or payments for your account you can open a support ticket with the category of "Billing and Payments" or e-mail billing@preset.io
---
Was this article helpful?
---
What's Next