Preset is a cloud-hosted data exploration and visualization platform built on top of the popular open source project, Apache Superset™. Our fully managed service makes it easy to run Superset at scale with enterprise-ready security, reliability, and governance, enabling your entire organization to quickly and easily draw insights from your data.
This Getting Started guide will give you the guidance you need to quickly get your organization up and running with Preset.
You will learn how to do the following:
Connect Preset to your organization's critical SQL databases or Google Sheets
Create a Dataset as a light-weight Preset semantic layer
Build your first chart from over 40 types without writing any code
Create your first dashboard using intuitive drag & drop technology
Publish and share your dashboard with teammates
After logging on to Preset as an Administrator, your first step is to connect your organization's database to Preset. Preset supports a wide variety of databases via an intuitive connection wizard. Detailed walkthroughs for popular databases are available, we support database imports, and you can even upload data from familiar technology like Google Sheets and CSV files.

After your organization's Admin has connected your data source, users can start building charts by selecting datasets. But what is a dataset?
A dataset is a Preset abstraction that points to data in your database, containing a comprehensive collection of relevant dimensions and metrics. Each Preset chart is built using a datasets. With datasets, users can self-serve to create visualizations within this simple and safe "dimensional" playground.
Preset offers two varieties of datasets: physical and virtual. A physical dataset points to a table in a connected database, and a virtual dataset is a view of data that is created using Preset's collaborative IDE, SQL Lab.
A wide variety of Preset charts are available for selection, from popular table, line, and pie charts to pivot tables and sankey diagrams. The chart building process is built on the concept of no-code data exploration. The intuitive drag & drop environment facilitates unique combinations of metrics & columns designed to create complex and visually-stunning charts.
A handful of the 40+ charts available in Preset: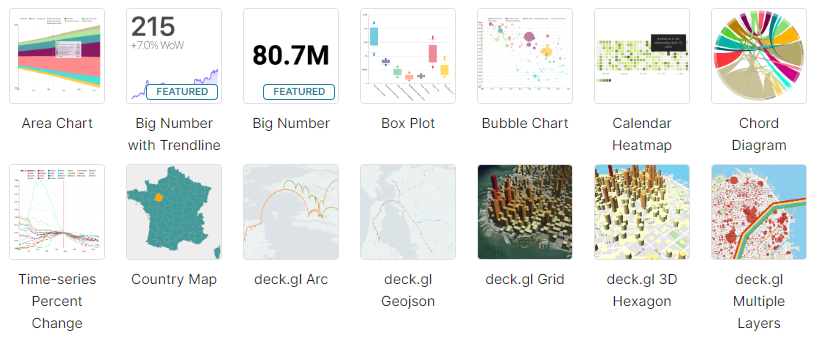 At the heart of the Preset data visualization experience is the dashboard — your opportunity to tell a story with your data via a collection of charts.
After creating a chart, you can immediately save your visualization to an existing dashboard or create a new one. Like the chart creation environment, dashboard creation uses drag & drop technology to facilitate the customization of your data story.
The type of information you convey in a dashboard can be fine-tuned for different audiences using powerful native filtering.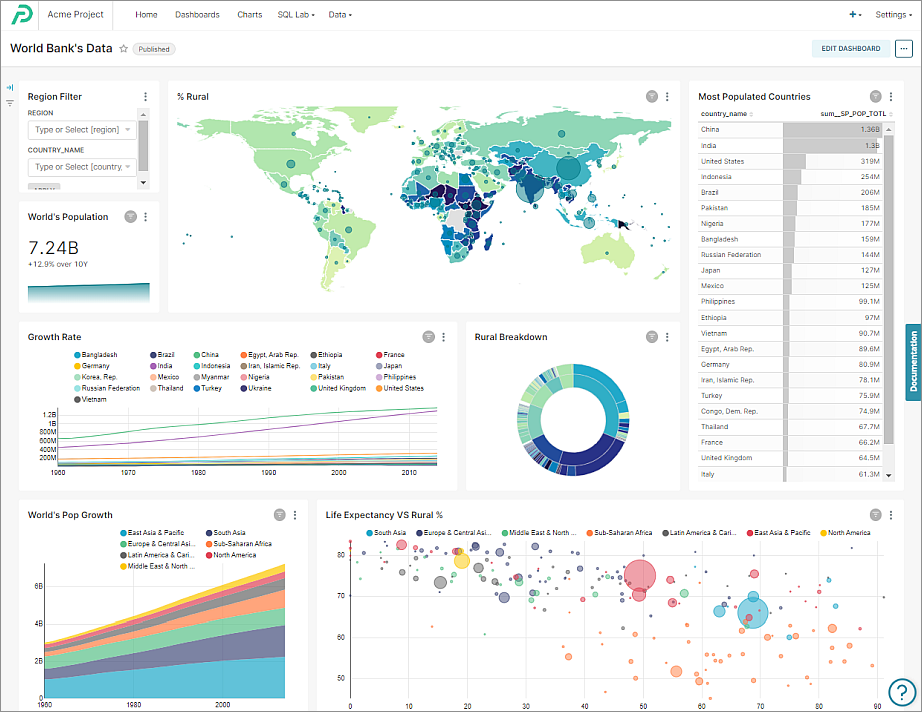 Sharing charts and dashboards in Preset is straightforward, with unique permalinks to both that can be copied or sent via email to your colleagues.
Receiving meaningful and relevant information is critical in any organization, and Preset supports that with robust alerts, reports, and report scheduling. Email or Slack-based notifications can be event-triggered—based on a query-defined and data-based alert condition—or sent on a schedule.
---
Was this article helpful?
---
What's Next