Overview
Preset offers many different charts designed to bring your data to life. If you'd like to get a quick look at all the possibilities, in the Toolbar just select + Chart and filter by All Charts: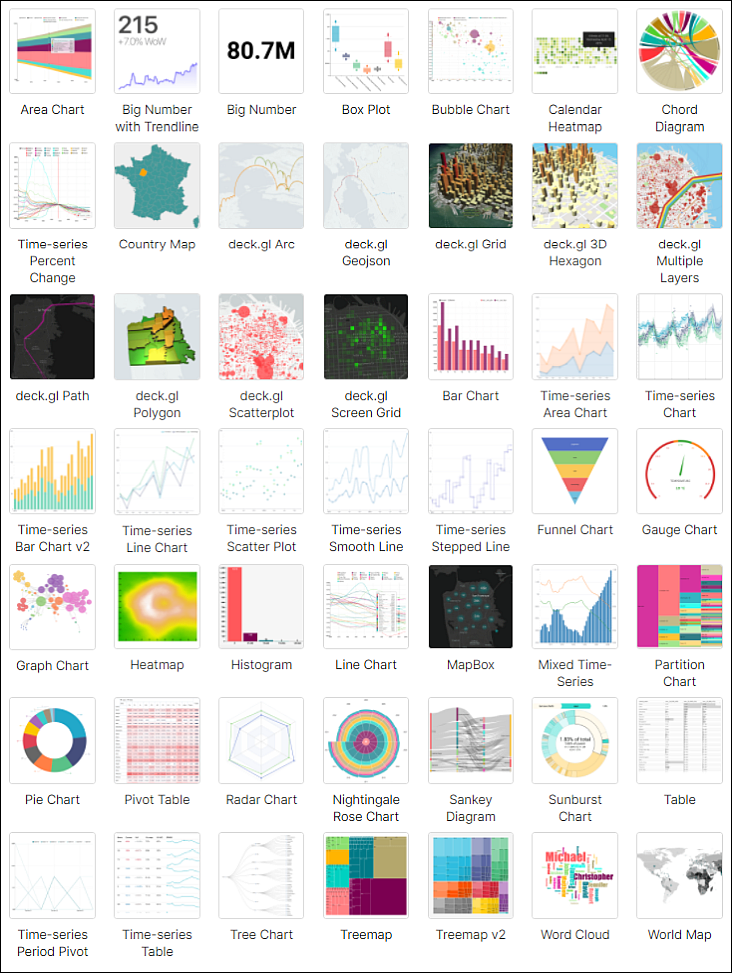 Feel free to explore all of the sample charts and dashboards pre-loaded in Preset!
---
Chart Creation Walkthroughs
| Chart Name | Description |
| --- | --- |
| Table Chart | Classic row-by-column spreadsheet like view of a dataset. Use tables to showcase a view into the underlying data or to show aggregated metrics. |
| Pie Chart | A circular statistical graphic that shows the proportion of different data conveyed as slices within a cicle (i.e., pie). |
| Line Chart | Line charts offer a straightforward way to convey changes over time. |
| Big Number Chart | A Big Number chart is a powerful visualization that is used to place focus on a key performance indicator. |
| Bar Chart | Bar charts provide an easy-to-understand way to visually convey categorical data. |
| Area Chart | Area charts provide an insight into the changes in quantity over time while also providing volumetric data. |
| Pivot Table | A Pivot Table is table of grouped values that aggregates the individual items of a more extensive table within one or more discrete categories. |
| Sankey Diagram | A Sankey Diagram is a flow diagram that conveys the relative size of metric data based on the size of flow lines from a source to a target. |
---
Chart Examples
Table Chart
In this example, we used a Table chart to convey chart statistics based on database engine and team.
| Chart | Configuration |
| --- | --- |
| | |
Pie Chart
Here we created a simple Pie chart that shows the popularity of chart types based on the number of chart types created.
| Chart | Configuration |
| --- | --- |
| | |
Word Cloud Chart
In this example, we created a Word Cloud chart that features the most popular names for girls.
| Chart | Configuration |
| --- | --- |
| | |
Pivot Table Chart
In this example, we created a Pivot Table chart that shows a breakdown of potential job candidates based on stages within a hiring flow.
| Chart | Configuration |
| --- | --- |
| | |
---
Was this article helpful?
---
What's Next