Advanced Connection Settings
---
Introduction
There may be times when you would like to further configure your database connection.
In addition, some databases require that additional settings be defined in order to finalize the connection, such as:
Let's have a look at how to use the additional settings interface.
---
Configuring Advanced Settings
Whether you have connected your database by supplying credentials or have used a SQLAlchemy URI, you will be presented with an opportunity to specify additional settings.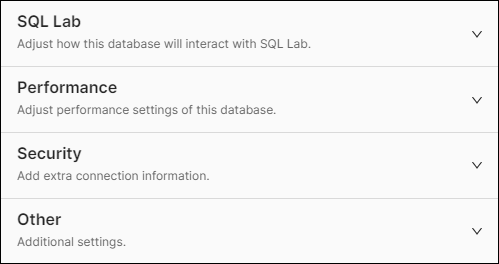 The advanced connection settings screen includes the following panels:
We will look at each panel in detail below.
Recommended Practice
We strongly suggest that you have a look through our database-specific articles to learn more about 1) the SQLAlchemy URI syntax for your database and 2) any additional connection information that may be required.
Our database-specific articles are:
SQL Lab
To start, select SQL Lab to expand the panel. These options are used to configure how your database will interact with SQL Lab.
The options appear as follows: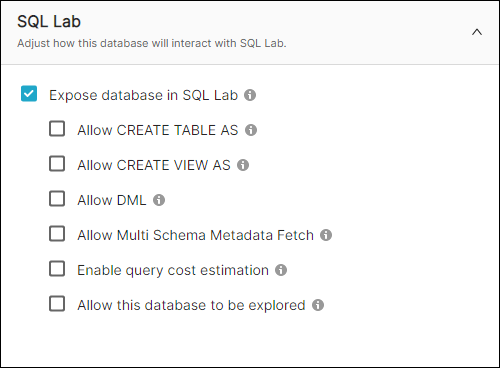 Performance Panel
The next panel, Performance, is used to adjust the performance settings of your database.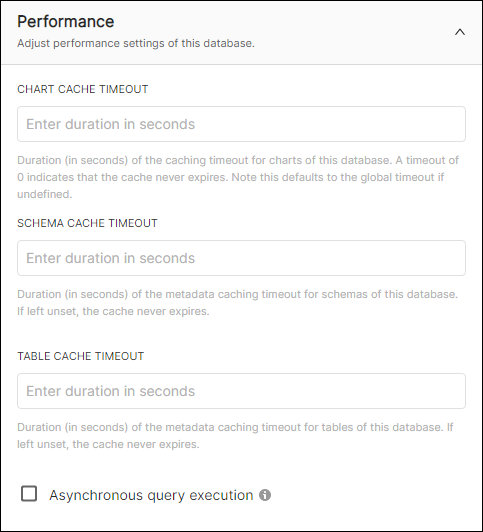 Security Panel
The Security panel is used to include additional connection details, as required by your database type.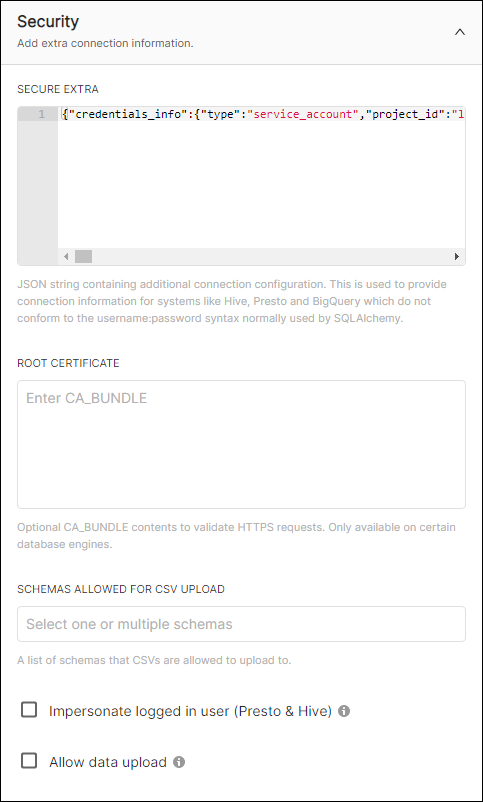 The Secure Extra text-entry box is used to enter a JSON string with any additional connection configurations. This is typically required by other systems that do not conform to the username:password syntax used by a SQLAlchemy URI.
The Root Certificate text-entry box is used to enter any required CA_BUNDLE content needed to validate HTTPS requests. This is only available for certain database engines.
In the Schemas Allowed for CSV Upload field, select one or more schemas that comma-separated value files can be uploaded to.
The Impersonate logged in user (Presto & Hive) option is used to run queries as a service account while impersonating the currently logged in user.
Lastly, selecting the Allow data upload option enables users to upload data to the schemas defined above in the Schemas Allowed for CSV Upload field. In addition, when enabled, database upload options (i.e., Upload a CSV, Upload a Columnar File, and Upload Excel) will be displayed for non-Admin users.
Other Panel
The Other panel is used to specify additional settings (i.e., parameters and versioning), if needed.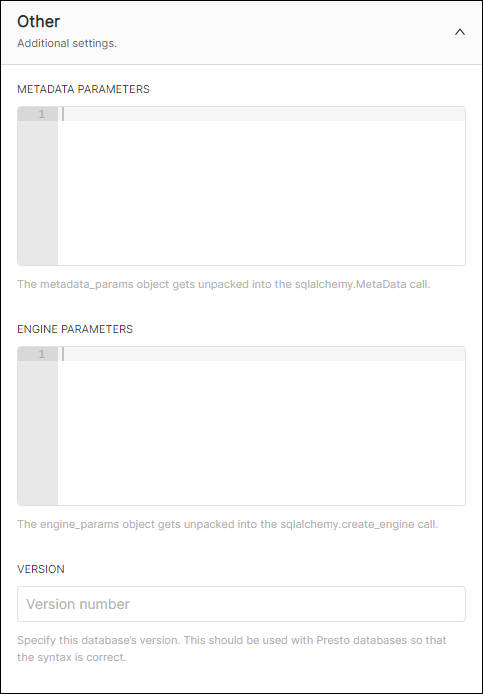 In the Metadata Parameters field, enter a metadata_params object that will be unpacked into the sqlalchemy.MetaData call.
In the Engine Parameters field, enter an engine_params object that will be unpacked into the sqlalchemy.create_engine call.
Last, in the Version field, enter your database's version — this is needed when using a Presto database to ensure that the syntax is correct.
---
Was this article helpful?
---
What's Next